If you thought bagpocalypse or luggageageddon was over when summer 2022 closed, after airlines mislaid and misdirected oceans of suitcases and checked items, think again. The recent severe weather that crossed left "thousands of pieces of luggage remain strewn about airport lobbies," as one newspaper reported.
Apple's AirTag and third-party Find My items that use the same crowdsourced network can be your best friend when a bag goes astray. Hundreds of news articles cropped up in 2022 about savvy travelers dropping one of these trackers in a bag and finding their needle in a haystack, allowing them to be reunited with their clothes, gifts they were bringing to their destination, or other valuables and necessities.
While there are significant ongoing privacy concerns about AirTags used to track people without their knowledge or consent, when you put a tracker in your own bag, the encryption method Apple employs to maintain the anonymity of devices means you're not turning yourself into a target.
Buy the right Find My trackers
First, consider which kind of Find My item you want to use. Apple licenses third parties to make products that work within the Find My network rules, so you have some choice. Macworld has reviewed most options:
The original AirTags remain a good bargain, though they aren't ideal by themselves for luggage or carry-on bag tracking (see links to cases below). $29 for 1; $99 for 4; replaceable cell battery, rated for about a year. Watch for deals, as Apple and others occasionally sell cheaply.
The Chipolo ONE Spot is another round tracker, but instead of a convex shiny side and a metal back, the ONE Spot is flat, matte, and black. It includes an integral keychain ring, too. $28 for 1; $79 for 4 (current discount); replaceable cell battery, rated for about 1 year.
The Pebblebee Clip is a step up from the AirTag and ONE Spot, providing a rigid metal frame, LEDs to provide additional status information, and a USB-C port for recharging. If you'd rather not stock disposable batteries, this is the model to pick. It also incorporates a keychain ring. $29.99 for 1; $99.99 for 4 (current discount); rechargeable internal battery rated for six months per full charge.
You might also choose a wallet-format Find My item if you want a less-obtrusive or fully flat tracker to place in your bag, particularly to slide into a flat zippered pocket:
The Chipolo Card Spot: $35 for 1; $112 for two; battery lasts an estimated two years, then you can exchange a Card for a new unit at 50% off the price.
The Pebblebee Card: $29.99 for 1; $99.99 for 4 (current discount); a rechargeable battery requires custom magnetically attached USB charging cable; full charge lasts about a year.
You can slip an AirTag, third-party tag, or third-party wallet card into a zippered pocket or other portion of a bag, or with an AirTag case or Chipolo or Pebblebee tracker, use a keyring or other tie to attach it. With an AirTag, you have extensive options for other cases, too. We've reviewed dozens of them, some designed to attach to luggage. Particularly look at straps that have loops or attachments, and mounts that use adhesive to stick on or inside a bag.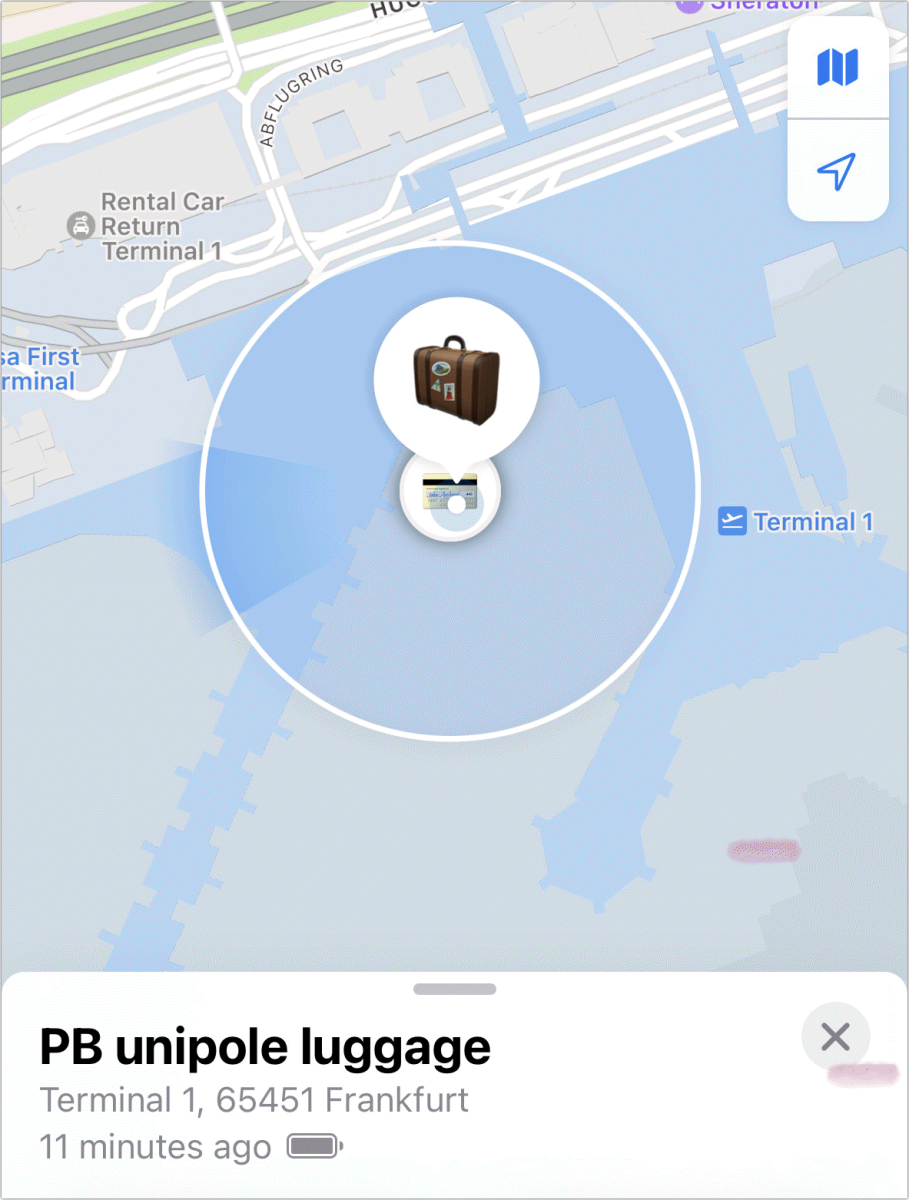 On a recent trip, I had AirTags and Chipolo ONE Spots adhered in a case inside my checked bag, in an inside compartment of a medical device case I carry on, and zipped into an outer pocket of my messenger bag. (I also had a wallet-sized tracker in my actual wallet.) As I checked luggage, walked to gates, switched flights, and changed countries, I could frequently see my checked bags in close proximity. This was especially reassuring when I had to traverse one end to another of a long airport and pass through border control–it was great to know my bag was en route and when it caught up to the plane I was about to board.
The Find My network relies on crowdsourced information that Apple anonymously and securely gathers and transfers among nearby devices. Even though the Bluetooth range of the devices–over which an encrypted ID gets transmitted–might be from several to dozens of feet inside a bag and packed alongside other ones, the sheer density of Apple iPhones, iPads, and Macs makes up for that. Baggage handlers and other airport staff clearly carry their own iPhones based on the precision of the location that I often saw during my airport travels.
When you check your bag or other item's position:
Examine the time. The Find My app shows the last time your device or account received a location update, whether through Bluetooth proximity or over the Find My network. (You must have an internet connection to receive Find My network updates, of course.) If the time is quite a while ago and the bag isn't located near you, you might have an issue.
If you're on a plane, train, or other vehicle that's moving away from a position your bag is located, and the latest update is marked as "Now," and it doesn't update when you're underway or further away–well, you may want to start immediately making plans about how to recover that bag.
When you arrive at a destination and see your bag elsewhere–another airport or train station or the side of the road somewhere–you can use that information when you reach someone in person or by phone to find your bag.
More handy than you might expect
One of the absolutely most useful aspects of a Find My tag is when you're faced with an ocean of bags in an overflowing pile of hundreds or thousands, with no advice provided by airport or airline, and your Find My app shows you approximately where it is. You can use the app to play a sound, as you're now within Bluetooth range, and that might help you get closer to the object in question.
It can even help under less-stressful circumstances. On a recent uncrowded domestic flight, I thought the flight's baggage hadn't yet been unloaded by the time I'd walked to the claim area. The carousel was still and the flight number wasn't displayed above it. But I tried Find My anyway and located my bag sitting on the carousel's opposite side, out of view.
There's an added bonus to leaving these trackers in place when you arrive, too. When I traveled by foot, city transit, and inter-city train across the weeks of my journey, whenever I left a new hotel, I wouldn't get far before my iPhone warned me I'd left a few items behind. I could then tap to mark that as a new destination that it should ignore, although I could have left alerts on to be sure I didn't leave anything behind when I checked out, too.
Remember also to turn on Find My on all the devices you carry with you, too. While you're unlikely to pack and check an Apple device of any size (much less leave it powered up, so Find My can work) it's easy enough when exhausted during travel to leave a phone, tablet, or computer in an airplane seatback pocket, or set down a bag and forget it when you walk away. As long as you've got one device or are traveling with someone in a Family Sharing group you share your location with, a disappointing loss can be turned into a quick dash back to reclaim some hardware.